Should you invest in hard gold or buy gold ETF / fund of funds?

New investors often ask, buying gold coins or bullions vis-à-vis investing in gold exchange traded funds or gold mutual funds, which gives better returns. We've compared investing in hard gold to gold ETF investments, detailing the pros and cons of each. Find out whether you should buy gold or invest in gold funds.



Investing in gold has been a popular instrument since prehistoric times. There are lots of advantages of investing in gold. This precious yellow metal hedges against inflation, and its price seems to go up steadily. Unlike mutual fund statements or e-certificates, a physical sensuousness is associated to gold. We love to touch it, feel it, and wear gold ornaments.

In recent times, investing in gold suddenly became enormously popular over the last 5-10 years as the prices kept rising pretty fast. Considering the present scenario in India, I feel investing in hard gold is not a good idea if you do not need it in the physical form in future. Instead, it is better to invest in some good gold exchange traded funds or fund of funds that trade on those gold ETFs. Let us see when you should and should not buy gold coins or bullions, and why gold ETF is often a better choice than gold bars for investments. Keep reading!


When should you buy hard gold as an investment?

Well, my opinion is, you should not buy gold as an investment instrument. Buy gold if you require it physically. If you have your daughter's wedding some 10-15 years hence, you can consider buying gold. In longer time horizons the price of gold will definitely go up and it will be a good idea to buy gold beforehand in comparatively lower prices and stock it. Only, you must keep it safeguarded. Nevertheless, if you are buying gold now for your sister's marriage next year, that might not be as good an idea as the previous one. Why? Because the time horizon can come down; and like all commodities or the equity market, the price of gold can be sharply volatile in shorter time horizons. So, when should you not buy hard gold?


Don't buy hard gold for investment purpose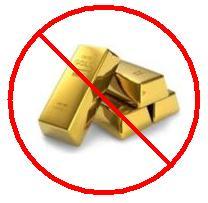 There are lots of disadvantages of buying hard gold for investment purposes. First, you need to keep it safe, and that may incur some expenses. Secondly, many people do not know how to sell gold coins or bullions. The banks are to buy back their gold coins and bullions from you; you must sell them to your jeweller only (although banks provide loan against gold, but that is a different story altogether). And, trust me, selling gold coins or bullions is a big headache in most cases. Your jeweller is out there to do business, so gear up for a tough bargain. Also, the weigh scales in your jeweller shop will magically reduce the net weight of your gold in most cases (they'd call it depreciation), and find it thoroughly impure. So, why don't switch to gold mutual funds or gold exchange traded funds (ETF), where you can have almost all the advantages of investing and trading in gold without having the headaches of dealing the metal physically?


SIP of Gold Funds: Yet another reason not to buy gold

Systematic Investment Plans, or SIPs, are just great for rupee cost averaging. If you are confused as to what does that mean, let me explain it a bit (experienced readers please skip this paragraph). A systematic investment plan allows you to put a little amount of money (usually a minimum of Rs. 500) at regular intervals (per month or per quarter) into your investment instrument. These days, most mutual funds have SIP options. The benefit of SIP is that, you do not need to time the market. As the market keeps going up and down, you buy some units at lower prices and some at higher, thereby having an average purchase cost for all of your units. You do not run the risk of ending up buying all of your units at a high price and then face a downwards curve.



Thus, while SIP in gold funds averages the cost, you can end up buying gold at a higher price and then face a falling market. The belief that gold prices never fall is a myth. Gold prices do fluctuate just like any other commodities, or indexes. Probably, this myth was born since the early 2007 when the price of gold started climbing a steep mountain, and people went crazy to buy gold. Around January 2008, the INR/gram price of gold was somewhere near 1000. But there is a end to every sweet thing, and gold prices began to fall after touching an all time high mark of 3146.97 in September 2012. Apart from a few dead cat bounces now and then, it has kept falling pretty steadily. While writing this article, the last close was 2749.90. If you have invested in 10 grams or hard gold in September Rs. 3146.97 per gram, spend a minute to calculate what is the valuation of your holding right now. With SIP, you could be a little better.


Buy Gold ETF instead of Gold. That's how pros invest.

Yes, I mean it. In the present market scenario, it seems better to wash your hands off buying gold coins and bullions, and investing in gold ETF looks like a smarter idea. In my next article, I will discuss about how to invest in gold funds, difference between gold ETF and fund of funds, and some of the best gold exchange traded funds to invest in. Keep following!