Starting KFC franchise: How to open a KFC restaurant in India?

Got business space? Starting a KFC franchise in India won't be bad! Learn how to open a KFC restaurant in India, how much capital do you need for opening KFC franchise, and other requirements.



Opening a KFC franchise in India won't be a bad start-up business idea, considering the enormous growth of the Kentucky Fried Chicken here in the last ten-twelve years. The increasing popularity of this Yum! brand has inspired a lot of businesspersons to start a KFC restaurant. In India, unfortunately for public health and fortunately for the franchise owners, general consciousness to avoid fast foods is very low. Instead, we have seen a giant leap in the sales of fast foods, and as a result the fast food retail chains are having an ever booming business. If you are thinking about opening a fast food retail shop, consider opening a KFC franchise. It is a brand you can rely on, since KFC has demonstrated steady economic prospects over the last few years. Indeed, if you want to start a KFC restaurant, you will need a good amount of capital and a large shop space, usually more than what you would have needed to open a Haldirams franchise or a Monginis franchise. Since KFC is an international brand often considered a little posh, you have to make sure that you attract high-end customers, who would be looking for a little bit of relaxing space.

Even if you have the required capital and business space, opening a KFC franchise is still no cakewalk. Your application to open KFC restaurant must be officially approved by KFC India, and if they are in no need of another franchise in your locality, they might summarily turn your proposal down (in that case, don't give up; there are several other great start-up business plans for food retailers under the sun!). Nevertheless, keep your fingers crossed, and see what are the steps of open a KFC restaurant in India, how to apply to KFC India for a franchise permit, how much money and space do you need, and other requirements. Keep reading!


Capital investments & space needed to run a KFC franchise in India



Money needed to open a KFC franchise in India: Let us accept this fact straightforward. Opening a KFC franchise requires a lot of money. Really a lot. However, you can invest that safely, since running a KFC restaurant in India where almost everyone lover burgers and chicken nuggets is always a profitable investment. According to US standards, one needs to possess liquid assets worth 360,000 US Dollars. With an average conversion rate of 50 INR per dollar, that sum mounts up to 18 million rupees. Practically, since the standard of living is lot cheaper over here, you may not need that much. Still, in the high-end areas of metro cities, you are going to need more or less 15 million rupees to start a KFC restaurant. If you plan to start in the cheaper parts of the city, you will need even less; but in that case you will have less footfalls of affluent customers who can afford to eat at a KFC. Remember, the average Indian middle and lower-middle class is not your target customer belt, and you must chose a location accordingly.

How much space do I need to open a KFC franchise?: Well, this question has no straightforward answer. It depends upon where you are trying to start your KFC restaurant. In the poshest areas of metro cities, you will need to focus on some decoration, luxury sofas, a couple corner, a family corner and so on.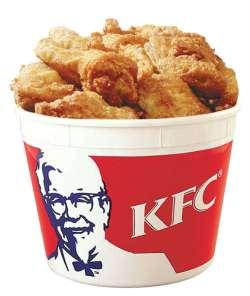 Hope you got my point! What I am trying to convey in a nutshell is, in the affluent areas of the city, people are looking for more space to relax and you must treat them accordingly. Your high-end customers are not going to be entertained by a shabby, clumsy restaurant.

On the other hand, if you are planning to start your KFC restaurant in a typical Indian marketplace with very high footfalls, you must make sure you won't loose your potential customers for want of space. Nobody likes to queue up in front of a restaurant and see others munching burgers lavishly for hours. Thus, if you want to open a KFC franchise in a high-footfall area, you would typcially want to have as big a restaurant as possible. However, at the same time, keep in mind that property prices or rents per square feet will be higher in dense market areas. For example if you want to run your KFC restaurant in Connaught Place or Kolkata Esplanade instead of a suburban marketplace, you might need to pay ten times as the property price or rent. Bottom line, keeping your budget in place, try to get as much space as possible. Investing in space will certainly pay off. Generally speaking, 500 square feet will be a handy space to begin in an averagely crowded locality.


How to get and submit KFC India franchise opening application form?

You can get the KFC India franchise opening application form from the official website of KFC India. Visit the official website of KFC India, click the footer link saying Alliance with Us. Select the radio button there against the option Franchise, provide your name and contact number, and sum up why you are interested to open a KFC franchise and why are you confident about running a successful KFC restaurant. Write your message formally, and boldly. Remember, this is much like writing a CV for a job!


Provide more details to KFC India as they mail back

As you submit KFC India franchise opening application form through the official website, you will probably receive an email response from the Deputy Manager (Business Development) of Yum! Restaurants India, Vishal Razdan. Congratulations if they approve your proposal straightforward. In case they refuse, don't give up hope. Considering the continuous growth of KFC franchise in India, they might need to add just another outlet in your locality. Therefore, to add your information to their database and revert back at the earliest opportunity, KFC India will ask for some details. Typically, they will ask for —


The city you live in
Total area of your city
Carpet area of your proposed business
Frontage and floor
Few images of your property
Some details about brands (both related and competing) in your locality
Trade area details
Anything else you might want to add.

For further queries, please refer to the following address or the official website of KFC India.


KFC India (Yum! Restaurants) contact address for opening KFC franchise

Vishal Razdan
Deputy Manager – Business Development
Yum! Restaurants ( India ) Pvt. Ltd.
Global Business Park
Tower D, 12 Floor
Gurgaon – 122002, India.
Email Contact: franchisee.india@yum.com
KFC India website: kfc.co.in